What's New
03 Dec 2012 : Important Note about Hotels near TGPR
JD White was the first to notice that the Nascar race at Talladega is the same day as our event at Talladega Grand Prix Raceway and he is right, the local hotels are sold out or very expensive. One Lap folks should start looking for rooms on the North end of Birmingham and book as soon as possible, even if you're not fully committed to running this year. I apologize for any inconvenience some may encounter. The good news is that we should start our events well before the pre-race traffic builds and be done well before the race is over so any commutes to the track, however long, should be fairly stress-free.
Share your pearls of wisdom!
Are you an entrant planning on covering One Lap of America on your website, Twitter, Facebook or blog? Email your link to
Brock
and we'll post it in the Team Coverage section below.
Also visit us at:
The

One Lap of America

Facebook Page

Cool video of the
2014 DEI Passage Control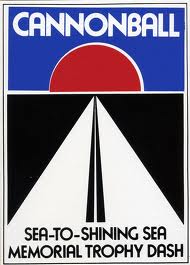 Limited edition prints from the Brock Yates' Collection available here. Click for more information.
---